Eastern Wu
~ Realm of the Sun Clan ~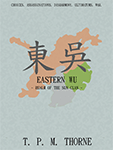 The 3rd Century has started badly for Han Dynasty China: the chaos of nationwide rebellion has been replaced by a series of power struggles between a small group of 'super-warlords', and an epic battle between two such men - the wealthy nobleman Yuan Shao and Emperor Xian's self-appointed guardian, Cao Cao – is about to begin at Guandu.
In the south of the empire, a different battle is being fought: Sun Ce, chieftain of the Sun clan of Fuchun, has been freed from indenture by the death of Yuan Shao's cruel and ambitious brother, Yuan Shu, and has set his sights on making his home region, Yang Province, into a thriving independent state and finally avenging his famous father Sun Jian's death by destroying Liu Biao, the ruler of neighbouring Jing.
But when fate strikes and Sun Ce is struck down, his divisive brother Sun Quan inherits Ce's legacy: a period of unrest begins, and it is left to Ce's friends, Zhou Yu and Lü Fan, to restore order. There is some hope until the fearful Han government demands humility from the new state: it is left to Zhou Yu to lead the men of the south into the Battle of Red Cliffs that laid the foundations of the famous Three Kingdoms era.
<< Back to Main Page >> About Page

Visit the Facebook page for the novel
Availability
This novel is only available in English at present. Published by PaMat Publishing.
Print Edition options:
Print edition ISBN: 978-0-9956582-2-6
All good high street & online bookshops
All libraries
This is a Print-on-Demand title, so if it is not in stock at your local retailer or library, ask at the counter.
eBook Purchase options:
eBook edition ISBN: 978-0-9956582-3-3
All good eBook stockists (ePub, Kindle etc.)
All libraries and online lending services
Once again, make enquiries if a vendor does not supply the title.