Welcome, visitor.
Hello and welcome to my simple website. The purpose of this site (at the moment) is to give a basic rundown of what I have written and when and where it can be found; no more, no less.
Latest Release Information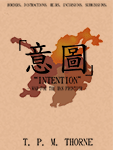 My fifth title, '"Intention": War for the Han Frontier", takes place during the first decade of the 3rd Century AD and depicts the aftermath of the Battle of Guandu and the Battle of White Wolf Mountain, which prelude the 'Three Kingdoms' era in China. View the synopsis, learn a bit more about the project or read the first act for free.
For any enquiries regarding my work, please email enquiries(A)tpmthorne.com. Replace (A) with @.
Thanks for visiting.
T. P. M. Thorne