Welcome, visitor.
Hello and welcome to my simple website. The purpose of this site (at the moment) is to give a basic rundown of what I have written and when and where it can be found; no more, no less.
Latest Release Information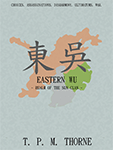 My sixth title, 'Eastern Wu: Realm of the Sun Clan", takes place between 199CE and 210CE and depicts the last year of Sun Ce's life, Sun Quan's rise and the Battle of Red Cliffs, which prelude the 'Three Kingdoms' era in China. View the synopsis, learn a bit more about the project or read the first act for free.
A general F.A.Qs page can now be found here.
If you want to, you can visit the

T. P. M. Thorne Facebook page and leave a like for any of the books that you might have read.
Thanks for visiting.
T. P. M. Thorne