"Turmoil"
~ Battle for the Han Empire ~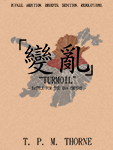 It is nearing the end of the 2nd Century, and Han Dynasty China is beset by strife. Numerous warlords, tribal uprisings, bandit armies and peasant rebellions are devastating the already famine-ridden nation, and the young Emperor Xian can only watch from his court in Chang'an, where the power is held by warlord-regents Li Jue and Guo Si.
The men that should be fighting to restore the Han - the wealthy Yuan Shao, so-called "Hero of Chaos" Cao Cao and disinherited Han scion Liu Bei - are too busy with their own problems, and none are worse than the ambitious Yuan Shu - who covets his brother Shao's power and more besides - and Lü Bu, foster son of vanquished tyrant Dong Zhuo and a force of chaos unlike any other.
The Han's fate is uncertain as power shifts from Chang'an to Xuchang and the factions dwindle; a famous battle at Guandu is all that then stands between ambitious men and the road to the legendary "Three Kingdoms" era.
<< Back to Main Page >> About Page

Visit the Facebook page for the novel
Availability
This novel is only available in English at present. Published by PaMat Publishing.
Print Edition options:
Print edition ISBN: 978-0-9575004-8-8
All good high street & online bookshops
All libraries
This is a Print-on-Demand title, so if it is not in stock at your local retailer or library, ask at the counter.
eBook Purchase options:
eBook edition ISBN: 978-0-9575004-9-5
All good eBook stockists (ePub, Kindle etc.)
All libraries and online lending services
Once again, make enquiries if a vendor does not supply the title.