"Sun Clan" Books
When I wrote 'Crouching Dragon: The Journey of Zhuge Liang', I did so knowing that the Sun clan - who serve as a sometimes-ally, sometimes-rival faction to Liu Bei's pro-Han faction - would not come out of it particularly well. The story began when Sun Quan - an ambitious and complex character - was the clan chieftain, rather than the hero Sun Ce, who is killed "off-stage" at the beginning of Act I. I had hoped to do the Sun clan justice in '"Yellow Sky": Crisis for the Han Dynasty', but I did not have the space to do anything more than give Sun Jian and Sun Ce (and the adviser Gu Yong, for the more observant) cameos, and that was disappointing. I therefore decided to embark upon a book that would give the Sun clan the coverage and the respect that they deserve.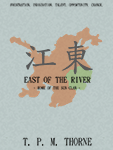 East of the River
This work begins where most ROTK stories begin: the Yellow Turban Rebellion. The first protagonist is Sun Jian (who, despite being the famous 'Tiger of Jiangdong', is often used as little more than a springboard for Sun Ce and Sun Quan): I devote close to three of the nine acts to his exploits as they give grounding to his sons and the state that they devoted their lives to building. History's depth ensured that I ended this work at a point that really left me with more to say about Sun Ce (who still had close to a year of his short life to go), so I decided that I would return to them when I completed '"Intention": War for the Han Frontier'.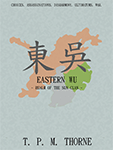 Eastern Wu
This work covers the transition from the popular Sun Ce to the controversial Sun Quan and, perhaps, explains why things are as they are in 'Crouching Dragon: The Journey of Zhuge Liang'. It begins more or less where 'East of the River' finishes (although there will be no need to read said prior work to understand what's going on) and finishes with the famous 'Battle of Red Cliffs' (208CE), the siege of Jiangling (208-209CE) and the last year of the life of Sun Ce's friend and strategist Zhou Yu (d. 210CE). The story continues in 'Crouching Dragon', which is already out there, and the last part of the set that I now refer to as my 'Fall of Han' series: a third book in this set is entirely dependent on its necessity for the purpose of doing the 3K story justice, and that is currently impossible to determine.
T. P. M. Thorne